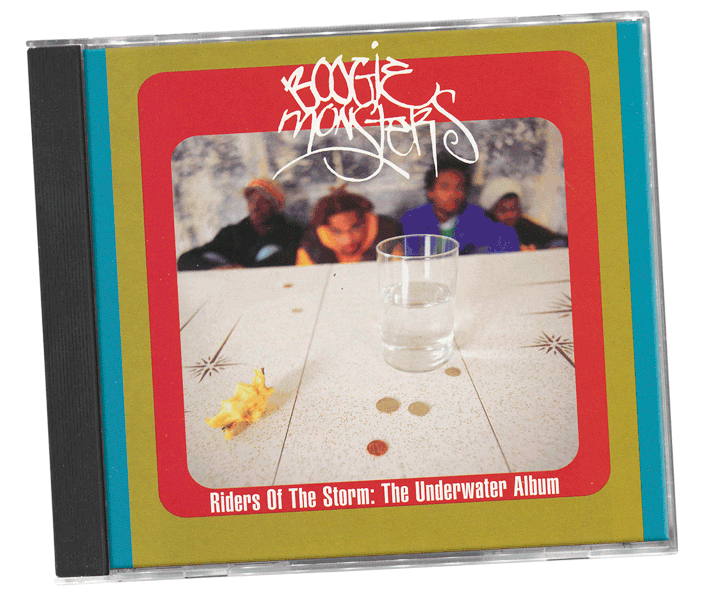 Testimonies
Ivor Myers was one in a four-man hip hop group known as The Boogiemonsters. Appearing on programs such as Soul Train, tv channels like BET, and in magazines like Vibe and Rolling Stone, they were on their way to stardom. However, while recording their first album of an 8 album contract with EMI Records, they were introduced to the gospel of Jesus Christ. After eye-opening revelations, both he and his younger brother Sean left the industry. They are now both involved full-time in the Lords work. Watch their story, "Escape from the Black Hole" on DVD.
---
Thank you for the excellent programs you have put together that are being aired on 3ABN.
Daniel
I am in awe at your experience, faith, wisdom and evangelism. Your programs on 3ABN have been outstanding.
Debra
First let me start by saying I was truly blessed by the program this morning. I am a 22 year old who is completely entrapped by the whole entertainment industry, television, movies and music. Even after this seeing your program I know I will faultier so I am asking you to pray for the courage, strength and power to do what I know in my heart is right. It is said that admitting a problem is the first step to overcoming it. I pray that by admitting it to you I have just taken the first step toward reclaiming my life from the hands of the devil. Thanks you in advance.
Breena
Thank you so much for the the message of truth that you are sharing with young and old alike.  I was born and raised in Hollywood, Calif., because my parents where drawn into the black hole that you speak of. Having run the streets of Hollywood as a child and young boy I can tell you that there is not very much good in Hollywood.  Please keep on telling people your story.
Your brother in Christ Jesus, Gary
Being currently unemployed, I recently became tempted to begin watching daytime TV (soap operas). One day I decided to tape the shows because I had to leave the house. When I turned the TV on it was on 3ABN (which I watch regularly at night). Your show "Battles of Faith" was on and it was so interesting I started watching it while standing holding the VCR remote to tape the soap operas. Then Atonte said that she had gotten the victory over watching soap operas, and I knew God was reminding me that I didn't really want to get involved taping and watching them. (I said out loud "Thank you, Father!!") The TV was only on about 3 minutes, so I know God wanted me to hear that testimony!!! (Of course, I didn't tape or watch the soaps) I can't wait to watch the other "Battles of Faith" shows on 3ABN. I'll be praying for your ministry!!
Sincerely, Cherry
Dear Brother & Sister in Christ!
I was watching you and your lovely wife on 3ABN today. The Lord used you to speak to my heart regarding magazines that talk about Hollywood stars and their frivolous lifestyles. Recently, I have been intensely curious about them and find myself buying more and more magazines. I have been praying that if this is wrong that the Lord would impress me, as I felt that this might not be pleasing to the Lord. Additionally, I have almost felt compelled to buy more magazines as if I HAD to read the latest gossip. I am writing this to you, to actually put down in print what has been going on in my heart at a subconscious level, but not really wanting to recognize it, as I knew that I would have to do something about it.  Today, on your program I finally realized why they are wrong, as they do not bring a reader closer to Christ, but closer to worldly things…  For this I thank you. I am going to throw all of my magazines away, as I do not want anything in my house to draw me to the enemy or his angels.
Please keep up your timely message, Brother Ivor, our youth desperately need it as the enemy tries to keep them seduced by his magic of Hollywood….
Bless you in your mission,
In Christ's Love, Anne
Dear Pastor Myers:
I have enjoyed your series on 3ABN, battles of faith. I am really looking forward to your next program on video games. My son spends 24 hrs a day in his room 7 days a week and only comes out to work or to use the bathroom. He plays the games all the time and has made a whole fantasy world out of it. He will go without sleep or food to play these games. All of his former friends have moved on to jobs and college and he sits alone in his room with the door locked and does not want to interact with his family. He is 22 and has been playing these games starting with PAC-MAN when he was 7 years old. I pray for his deliverance. If I could give advice to mothers of young children it would be this, keep them away from the video games, and the TV and nurture a love for the outdoors, helping others, and a love for GOD. I did all these things, but I let my son play the video games because it made him feel good about himself and his life has been totally taken over by their influence. He is hypnotized by the action, blood and the challenge to be the best killer in the game world. Nothing good comes out of this activity, it sucks our young people down that black hole.
Anonymous
Hi there in the USA.
I just thought I must write to say thank you so much whoever you are that I heard on the radio in my car this past week. I am from Iceland and I live there. I know that the program (I believe led by Danny Shelton) was sent out on the television station but I am sure it sounded just as good in my car on the radio. What really touched me was how you spoke on Jesus dealing with the serpent at Calvary's Cross, when He dealt with the serpent's head once and for all. That was so powerful, keep up the good work brother. I personally often by  faith put my own head under the Crucified Feet of the Son of God, for Him to trample out all ungodly images that rise up in my carnal mind, yes truly the Cross of Christ has infinite power to take care of our sins. I am so eternally grateful for my Lord and Savior Jesus Christ for  coming into my life one day. Thank you also for you insight into the entertainment industry, how evil it is.
God bless our ministry richly. Gudsteinn
Hi Ivor and Atonte
WHAT AN INCREDIBLE MESSAGE you had for us on 3ABN. We were riveted by your message, insights and what we believe also must be an inspiration from GOD.
Thanks for saying what we have always believed to be the case – but no one has had the NERVE / DECENCY / COURAGE / HONESTY to share with the world!
May GOD richly bless your ministry and marriage – and may you be kept safe from the Evil One as you are now at war with him!
Thanks once again for your beautiful example, we need your message in South Africa –  Love and best wishes in Jesus Christ  Have a Great Week further
Nella and Heidi
Dear Ivor and Atonte
Greetings in the name of Jesus Christ!
My name is Bruce and I am writing you from Portugal Cove in Newfoundland and Labrador, Canada.. I was listening to 3ABN today, and I was deeply moved by your testimony, Ivor. It was a powerful insight to the vices and trappings that Satan has set for God's people. I too, was involved in the music industry as a singer/songwriter for over twenty years and I have seen first hand the effect that music has on those who hear it and embrace it's lifestyle and lies. By the grace of God, I was shown that my lifestyle was not in harmony with what God wanted from me. In a lot of ways, your testimony is my testimony.
God bless you and the incredible ministry God has placed you in. Your testimony touched our lives in a tremendous way. My husband, Todd, and I have been married for 14 years. We have always loved Jesus, but because of the evil one, we were sucked into the dangers of the "black hole" and didn't even realize what we were doing. It was through movies, television and worldly music that we would seek entertainment during all of our married lives together. Three years ago we bought our first home together and made one of the rooms into our dream AV room with the giant screen TV and surround sound system. Soon it became an obsession to own just about every new DVD that came out. We would spend sleepless nights in front of our idol — the TV set. After watching all evening, we would drift in and out of restless sleep as the TV droned on through the night. We rarely slept in our restful and comfortable king sized bed.
Although this had become our nightly ritual, I knew that it wasn't right. I began to seek the Lord in prayer about our restless nights. I knew my husband was using this behavior to relax from his stressful days at work, and I didn't want to rock the boat by suggesting that we do differently. So I just kept praying that something would change and we would at least begin sleeping in our own bed.  Shopping had also become an addiction for both of us. For me it was clothes and for Todd it was DVD's and CD's. It didn't matter what the non-Christian, worldly content. I started to pray that our desires would change. We were smothered by Satan's trap. Although I began to cut back on clothes shopping in early 2005, Todd was still going full speed ahead at the DVD's and CD's. The situation seemed hopeless of ever changing.
Then, in May of 2005, we were visiting my sister, Debbie and her family, for the weekend. I always marvel at how they don't even have regular satellite programming, but they have 3ABN. I just couldn't imagine that, yet a part of me was envious. During that visit, Debbie and I went on a walk that changed my life forever. She asked me if I had heard of Ivor Myers. When I said I hadn't, she began sharing your story. I was so touched by it and wanted to know where she had heard about you. She had seen you interviewed on 3ABN and had then purchased your DVD called "Escape from the Black Hole". Little did she know what I had been going through and how I had been praying. Debbie didn't even know that we had hundreds of DVD's and rock CD's and that our lives were consumed with the "black hole!" I asked where I could hear Ivor Myers testimony and she gladly offered to lend me her DVD. I then told her that Todd and I were in bondage to the "black hole" and we needed help. I knew that it would take a miracle for our lives to change. Debbie said, "God is all about miracles." A sense of relief filled my soul.
As we were getting ready to leave the next day, we were saying our good-byes as Debbie handed me your DVD. It caught Todd's eye, and not even knowing what it was he said he wanted to watch it. I gave my sister a knowing glance and she whispered that she'd be praying for us. As we were leaving Debbie also gave the book, "Escape to God" by Jim Hohnberger to my brother, who was also visiting. That reminded me that we had this book at home, and I had never read it. I was impressed to start reading it as soon as I could.
I began praying for the right time to watch your DVD with Todd. I was anxious for him to see it, but I knew that God's timing was important. The work week came and went. I planted some seeds along the way about needing to get TV out of our lives. I used to watch game shows every day, thinking that they were "safe", but now I realize that I had become addicted. Finally, Sabbath morning came, and I suggested that we watch the DVD as it was a sermon and we could be blessed. So with a prayer for the Holy Spirit to speak to us we watched. Words cannot explain how the Holy Spirit moved on our hearts. I looked over at Todd and we caught each other's eyes, knowing that God was speaking to us through you. By the end of your testimony I was even more determined to make the needed changes and Todd knew we needed to too. He asked me to pray for him as he knew it would be a spiritual battle. "Of course I would pray", I told him as I hugged him tight. Todd and I were both excited to share the DVD with other friends and family.
That afternoon I finally got the chance to begin reading "Escape to God". With tears running down my face through every chapter, I realized that God was truly answering my prayers and showing me how to have a moment-by-moment relationship with Him. I knew I couldn't do that and keep "Satan's Playground" in my life. Thus I prayed earnestly for my husband. So wanting to share the book with Todd, on our way home from relatives on Sunday, I began reading aloud to him in the car. Todd was also touched by the moment-by-moment relationship with our Savior. The second we got home he began pulling DVD's off the shelf. When I asked him what he was doing he said that God had truly spoken to him through Ivor Myers and Jim Hohnberger, and he didn't want all this trash in his life anymore. We counted over 800 DVD's, not to mention countless rock-n-roll CD's.
Ivor, you helped us to realize that the "black hole" is Satan's ministry and that we needed to cut all ties. We praise God for the power of the Holy Spirit to do just that. We immediately ordered twenty copies of "Escape from the Black Hole" and several copies of "Escape to God" to share with loved ones. One day we were taking the dynamic duo to work to share with one of our employees when I glanced down at the two titles to see God's message shouting "Escape from the black hole, escape to God". Tears flowed down my cheeks again as I realized that the only way to escape the black hole is with God's help. The titles of these two totally independent gems was put together just for me in that moment as a big hug from God!
We have had our regular satellite programming discontinued and there is such a peace in our home now. We purchased the HOPE channel so that we can view 3ABN regularly, and it is such a blessing. Just a week after getting the new satellite hooked up we were off to Soquel Camp meeting. (We decided to attend camp meeting after all the above events took place.) My sister told us that we had to get the book "Mending Broken People" and start reading it right away. We bought it, and I began reading once again with a box of Kleenex by my side. The miracles that God has worked for that station are amazing. I marvel at how God has changed our lives so drastically, so fast. I praise Him for you, Jim Hohnberger, Danny Shelton and 3ABN!
When we arrived at camp meeting we had no idea that God had a huge hug awaiting us there! We noticed your name in the program as a speaker, but arrived after your meeting was over and were disappointed. Two days later, however, we were thrilled to see you both with your precious little girl. The Holy Spirit drew us together and we feel so privileged to have been able to share our story with you. We love you guys so much and absolutely praise God for your ministry. It is our prayer that God continues to use you and everyone you touch that we may all escape from the black hole and escape to God!
With all the Love in God, Karen
Brother IVOR! Praise God. Brother, just wanted to thank you for your ministry. Tonight I aired Escape From The Black Hole at my church and made an altar call just as you were making yours and souls came up one by one. Others stood up at their seats. I prayed for the Spirit to be poured on my church and our youth. I had many requesting the dvd aftward and several mention how they're gonna trash this and stop that…God bless you and your family,
Richard
Wow! Are you for real? I have been watching 3ABN since April of 2004 subsequently returned to the Seventh Day Adventist Church because of 3ABN …. exactly three programmes on 3ABN deeply affected my life and the first interview with the two of you was the very last one which just so convinced me … I threw out all my CDS, asked Jesus to set me free from my love for dancing and any music that is not uplifting him. I was a total addict, I used to dance with my daughter on my back … used to teach my now 9 year old daughter all the dance moves … that is how I was taught as a child.
I am from South Africa, father Greek, mother South African (now deceased) and had been plagued by terrible demons which was because my Mum, although she was a SDA, had somehow thought her problems could be solved by witch doctors (a common practice in my beloved South Africa). Up to one year ago, almost 30 years after our problems with demons began (I was 8 years old), I finally am feeling their power in my home leave …. I have 3ABN, Gregg and Lesa Budd and you to thank for that. I now no longer play any music from the radio, have totally turned away from watching Hollywood movies or any movie because I noticed that the more I praised and uplifted God, Jesus Christ, the weaker these demons became. There are still a few hurdles … I still feel things around me but they are becoming less and less.
Thank you, thank you so much for allowing the Holy Spirit to work through you, thank you so much for listening to him thank you so much for loving Jesus … your love for him is so powerful that when you speak on 3ABN its like a vibe just comes through and fills my living room. I did not believe that people like yourselves existed until now. It is such a motivation for me. I am going to purchase all your DVDs and book, will send some to my friends in South Africa and want to distribute the DVDs to some of my young friends here in the United Nations …. please pray for me as I do this …. we certainly need God here in the U.N.
In love and respect,
Your friend in Christ, Rozanna
Hi Ivor and Atonte,  I try my best to watch your show every Saturday night with my son. I truly believe that the devil is trying to control us through the avenue of our minds. We've learned so much from your show and are always amazed at how you make associations that we wouldn't dream of…
Janet
Hi, … I just wanted to thank you personally for your message. Since watching it we have gotten rid of everything in our home that takes our minds away from Jesus and it is amazing how different we view the world now. I was driving home from work the other day and it suddenly struck me how differently I see things now. Now everything is viewed in light of The Great Controversy, things are so much easier to see, it is like walking from darkness into light, it truly feels like an escape from the black hole. Thank you again for your faithfulness to the truths God has shown you and for your loving, unselfish attitude in allowing Damien to share your message.
Melinda
Dear Pr Myers,
My name is Damien and I am a teacher with the government school system here in Victoria, Australia. My wife and I have just accepted a call to go into ministry part time next year. There is a long story here but I won't bother you with that at this time.
Recently we heard your message on 3ABN in Australia and we were interested to learn more, so we sent for your testimony. When it arrived we watched it and were convicted of the sorceries that we had in our lives and went through the painful task of ridding those things from our lives. I had been invited to speak at my local church sometime ago and after watching your testimony felt that that was the message I needed to tell. So I started doing the research and come up with very similar convictions as yourself.
I have just come back from preaching that sermon, which was video taped. It went for an hour and a half and people were moved to take those things of sorcery out of their lives. The reason I write is because the service was video taped and people were asking for copies today, even offering to pay for them. I have directed them to your website where they can find some more information, however I am just if distributing copies of my sermon if this is OK with you, because I have used a lot of your information and your thoughts. I didn't want to take away from your ministry. I was just trying to follow the challenge at the end of your black hole tape. "I am just one voice and we need people to take this message all over the world". I hope that this is OK with you.
Your testimony and insight has touched and changed our lives, and I wanted to share that with others.
Damien
I have been an Adventist all my 25 years of life, I have been a youth group leader, and felt well-knowledged in Adventist theology. Yet, I always felt too lost, I had a darkness that I felt was so entwined with my soul that nothing could set me free. My only desire was that my youth obtain salvation, even if I could not. I truly felt that my fate was sealed. Then Ivor came and gave a Bible study on a chapter of Revelation I had never paid attention to, Revelation Chapter 11. I realized that it wasn't okay, or normal, or human to give into the world just because almost everyone out there says its okay. The struggle inside me was terrible before this study, but realization set it in and my eyes and ears were open. I realized I was also helping serve the dragon, and I will not have 2 masters. It was time to end my vices. I packed 99% of my music, almost 75 cds that I had obtained since high school, and got rid of them by the end of the weekend, all I have left is classical. I cleaned all the filth from my computer. People may say that I've limited myself, and needlessly imprisoned myself from what they feel is harmless. I say, that for the first time ever, I am free. I really was to the point of tears at the end of the Bible study, because I literally felt like the chains that I was wrapped in were suddenly ripped away by Jesus. I realize salvation is never really out of your grasp, Satan just makes you think that, no matter what you have done, or what you are doing now. Someone once told me salvation ends ONLY when the last breath leaves your body, for the first time I actually believe that. You are never too lost to be found.
John